By Chelsea Green
It's unmistakably harvest time! Whether you are looking for a step-by-step DVD, the best grilling and barbecuing techniques, recipes for all the great Fall raspberries or what to do with all the great greens – we have the right book for you.
Save 25% when you purchase any of the titles below to help preserve the bounty of the season and nourish you over the winter months to come.
Here at Chelsea Green we strive to produce books that will be a lasting resource. The books below are foundation books that will be trusted references on your bookshelf for years to come.
Happy reading from the friendly folks at Chelsea Green Publishing.
We talk a lot about preserving food here at Chelsea Green, but it's not to be didactic! It's because we believe in the possibilities of having power over one's food supply, and being able to seek a more sustainable life, with a stocked larder.
We believe in food that is affordable, in spaces for gardens even in the most urban of places, and the RIGHT to grow and process one's own food. But maybe we should take a moment and rewind, and revisit the whole idea of preserving food from a fundamentals standpoint. Let's think about the WHY. And the HOW.
Cooking, Storing, Freezing, Drying & Preserving Your Garden Produce
Making the most of your Glorious Glut is the answer to the perennial problem of an over-abundance of wonderful fruit and vegetables. From cucumbers to spinach, tomatoes to runner beans or blackcurrants to plums, most gardeners will recognize the sinking feeling that creeps over you when you realize you have had such a good harvest that you cannot actually face picking, cooking or eating any more.
– Full of imaginative ideas for using up all your garden produce and avoiding waste
– Shows how you can enjoy home-grown food throughout the year
– Over 250 delicious recipes
An easy step-by-step instructional guide  to putting up the harvest  
Join urban householder Harriet Fasenfest and friends in her backyard canning kitchen to learn everything you need to know about putting up the harvest.  Presented in an easy and approachable format, Preserving with Friends offers safe and reliable steps for making jam, canning fruits and tomatoes, making pickles, sauerkraut, kimchi, kefir, and kombucha, pressure canning vegetables, drying, freezing, and root cellaring.
From the basics of sweet spreads to a guide for making pectin, from simple quick pickles to the history of wild fermentation, Preserving with Friends offers information for the beginning and experienced preserver alike. This independently produced instructional DVD also includes printable recipes and tip sheets to supplement your viewing experience
A Guide to Grilling, Barbecuing, and Spit-Roasting Grassfed   Meat…and for saving the planet one bite at a time
The key to getting the most out of pasture-raised meats isunderstanding how to cook them properly. In The Farmer and the Grill, Hayes offers useful tips on grilling, barbecuing, and spit-roasting all cuts of pasture-raised meats: beef, lamb, pork, and poultry.
Dozens of simple, straightforward recipes provide all the basic cooking instructions, plus directions on how to make a variety of herb rubs, marinades, and barbecue sauces to accompany the meats. Traditional techniques such as Southern barbecue and Argentine-style asado cooking will help readers grill like the pros. And specific notes from pasture-based farmers on dealing with natural variations in grassfed meats will ensure success every time.
Want to know how to cook the Perfect, Tender Steak?
They Key to Self-Sufficiency
This is the modern guide to storing and preserving your garden produce, enabling you to eat home-grown goodness all year round. The easy-to-use reference section provides applicable storage and preservation techniques for the majority of plant produce grown commonly in home gardens.
Why is storing your garden produce the key to self-sufficiency? Because with less than an acre of garden you can grow enough produce to feed a family of four for a year. But without proper storage, most of it will go to waste since much of the produce ripens simultaneously in the summer.
Learn simple and enjoyable techniques for storing your produce and embrace the wonderful world of self-sufficiency. You will know where your food has come from, you will save money, there will be no packaging, and you'll be eating tasty local food while feeling very good about it!
A Guide to Cooking Farm-Fresh Seasonal Produce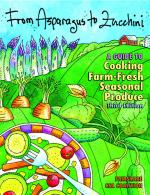 On Sale for 25% Off
Ever wonder how you'll ever be able to use all your vegetables? From Asparagus to Zucchini answers the question of what to do with your armloads of greens, exotic herbs (and the never-before-seen vegetables), with recipes that are as concise and doable as they are appealing.
Created for and by Community Supported Agriculture (CSA) members, the book is an indispensable tool for anyone who wants to eat seasonally and locally.
With more than 420 original recipes created, tested, and enjoyed by chefs, CSA members, and farmers, you'll never be without a delicious recipe to make the most of the season's bounty.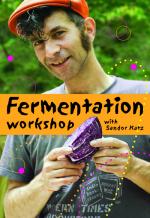 Now On Sale
In this new DVD, Katz offers fermentation beginners and enthusiasts a chance to "sit in" on one of his popular workshops and learn through hands-on demonstration and instruction, accompanied by an interview on the benefits of fermentation, and social implications as it relates to food security.
Contrary to popular belief, fermenting foods is a simple process. But it needs to be done correctly, and there's no better person to inform us about managing microbial bacteria to produce highly nutritious food. In fact, with Sandor Ellix Katz as their guide,viewers will find fermentation is much more than just a way of preserving food: it's a method of self-sufficiency, a crucial historical component to all agricultural movements, and utterly delicious.
This intimate workshop and interview will prove invaluable both for total beginners and longtime fermentation lovers. The DVD includes:
– The history of fermentation and culturing
– Information about microorganisms and pre-digestion
– Demonstrations on making kefir and sauerkraut
– Tips on fermentation vessels and storage
– The truth about food safety
A Year of Seasonal Recipes
A collection of over 150 original recipes designed to follow the seasons using the foods available in your region. Whether you are a home gardener, a farmers' market regular, or a member of a community-supported agriculture program, this cookbook will serve as a seasonal guide to using the foods available in your region.
Each recipe includes useful "Harvest Hints" that explain how to find, purchase, prepare, and preserve fresh and seasonal ingredients.
Recipe: Claire's Raspberry Upside-Down Cake
Note from the Author – This recipe comes from my husband's Aunt Claire, who lives in Quebec. She has picked her raspberries from her own garden for decades. She shares her harvest with family by making this recipe, and we know that we can count on this treat when we visit her in late August. She serves it with a touch of fresh cream on top. Feel free to substitute the raspberries with any fresh berry in season. If using frozen berries for this recipe, add an extra cup of fruit.